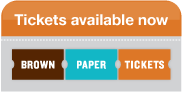 Guests will receive commemorative 5oz taster glass, seven 5oz beer taster tickets, street tacos, and a 22oz. of this years Mouette A Trois Holiday Fruitcake Ale. Additional beer taster tickets will be available for purchase at the event.
Ugliest sweater contest. Wear your best!
Friday, December 7th, 2012
6:00p-9:00p
Main Brewery in Pacific Beach
5985 Santa Fe St, San Diego, 92109
Buy Tickets
21+Only - Bring your ID.
Ticket includes beer and street tacos
Tickets may be available at the door until sold out. Cash only.



Brown Paper Tickets Ticket Widget Loading...

Click Here to visit the Brown Paper Tickets event page.